Many people get confused about SharePoint vs OneDrive business features and usage. It is possible to wonder which service you should use when SharePoint and OneDrive are being used for business-related data storage.
There may be confusion about SharePoint vs OneDrive Business features. This post will give you a better understanding of these Microsoft 365 services.
Overview
Before we discuss the differences and functionality between SharePoint vs OneDrive For Business. First, let's discuss how users store personal and business-related information on the company's on-premises servers. Which you need to share between teams/departments and store centrally with a backup solution.
Windows File Server Admin can provide additional features like a Home folder for each employee. They can also save their official data. Only employees should have access to their data. They can also share it with other users as needed.
Similar to the previous, SharePoint Online can be used in the place File server and OneDrive business in place home drive.
Microsoft Office 365 is a cloud-based SaaS (Software as a Service), that Microsoft developed. It offers multiple services including:
OneDrive
SharePoint Online
Power Automate
Power Apps
Teams
Exchange Online
Power BI
Yammer
Stream
Forms
Let's talk about SharePoint and OneDrive in this post.
What is SharePoint? 
Microsoft SharePoint Product is a web-based application that can be used by organizations to manage official documents and improve productivity.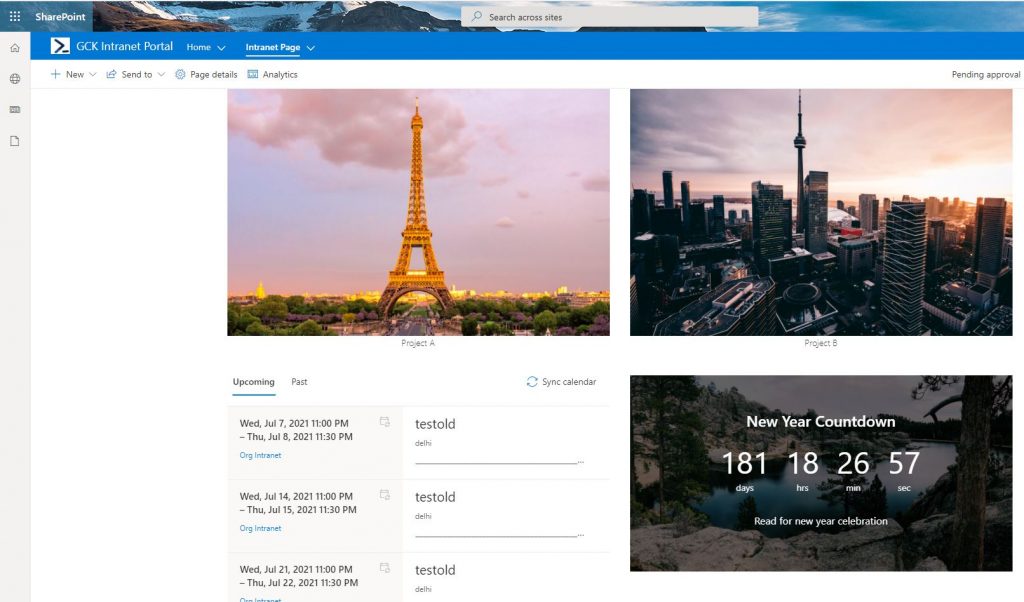 SharePoint allows you to create website, intranet, extranet, and news portals. Developers can also create custom solutions.
There are two options for SharePoint product. The first is a SharePoint Online cloud version hosted on Microsoft Office 365, while the second is SharePoint Server, which is an on-premise solution.
SharePoint Online is cloud-based and Microsoft manages its backend infrastructure. It charges only for platform usage and does not require users to manage its backend infrastructure (servers, storage, maintenance, etc.). It is therefore a SaaS-based service.
If you want to implement a SharePoint Server in your company, you will need to set everything up from scratch. At the time of writing, SharePoint Server version 2019 is available (July-2021).
What is OneDrive
Microsoft also offers OneDrive, a Cloud-based online storage service.
It was previously known as SkyDrive. Because of the Sky word that is associated with Sky UK (British television broadcaster trademark), its name was changed. Microsoft changed the name of SkyDrive to OneDrive in 2013 due to legal issues.
You can save important files and sync between OneDrive and multiple systems (mobile, tablet). You can access the saved files from anywhere, with any device that is connected to the internet.
Microsoft will take care of your infrastructure and security so you don't have to worry about when going down. Files can be shared with family members, friends, and colleagues as well as external customers.
There is some attachment size limit to send through mail. This is a smart way to store large files on OneDrive, and then share them in the mail to avoid large attachments.
OneDrive can be used for personal and business use. You can register for OneDrive for free. OneDrive for Business was created for business use. It is available in Office 365 subscriptions and on-premises SharePoint servers.
This will be a very useful feature Personal vault If you use OneDrive for personal.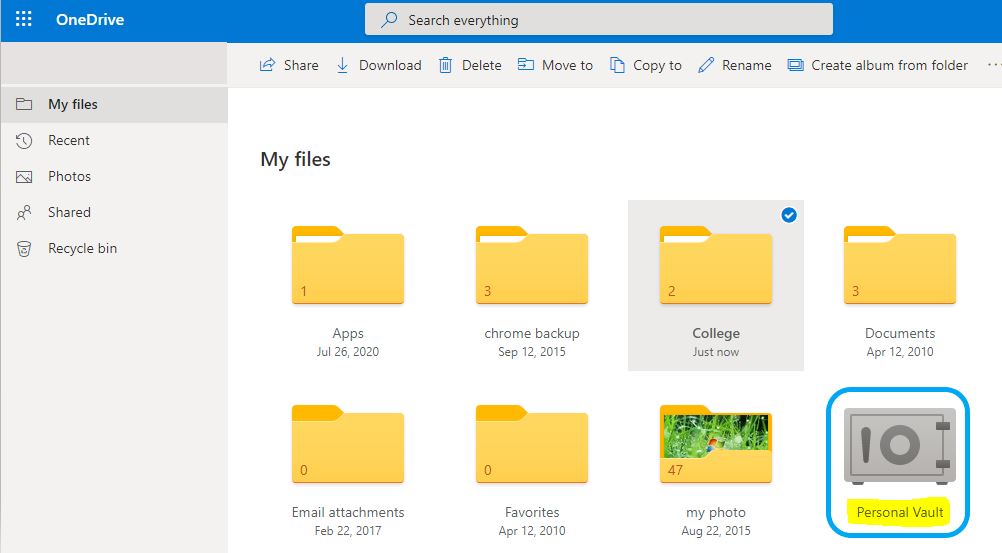 The virtual vault can be used to store sensitive or important files and then apply another level of authentication before they are opened. This feature is not available on Google Drive, its rival platform.
Check this page for more info on Protect your OneDrive files in Personal Vault.
Let's now look at its console and other details.
Admin Console and User Interface
SharePoint: You can open SharePoint Admin Center after logon on Microsoft 356 admin center console or can use the below direct URL after replacing XXtenantnameXX with your tenant name:
Direct URL: https://XXtenantnameXX-admin.sharepoint.com/_layouts/15/online/AdminHome.aspx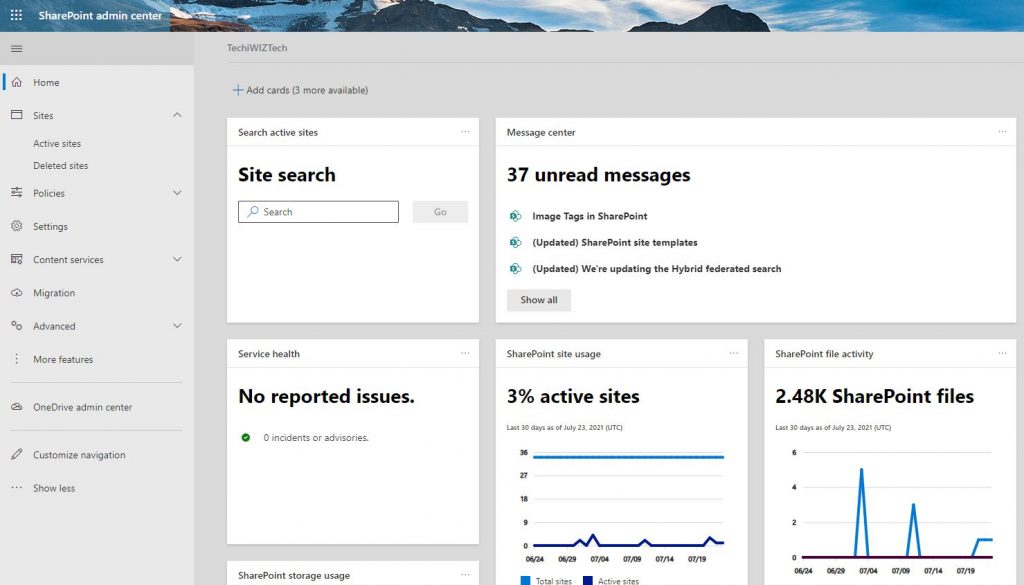 To manage SharePoint sites, you must have SharePoint admin access or Global admin-level permission.
SharePoint Admin Center allows you to create, delete, and modify SharePoint sites, as well as configure User Profile, Search and BCS Service, migrate content.
OneDrive: There no separate admin centre will be available for OneDrive and the current https://admin.onedrive.com page will no longer be available after 17th July 2021 as getting a notification in the following image: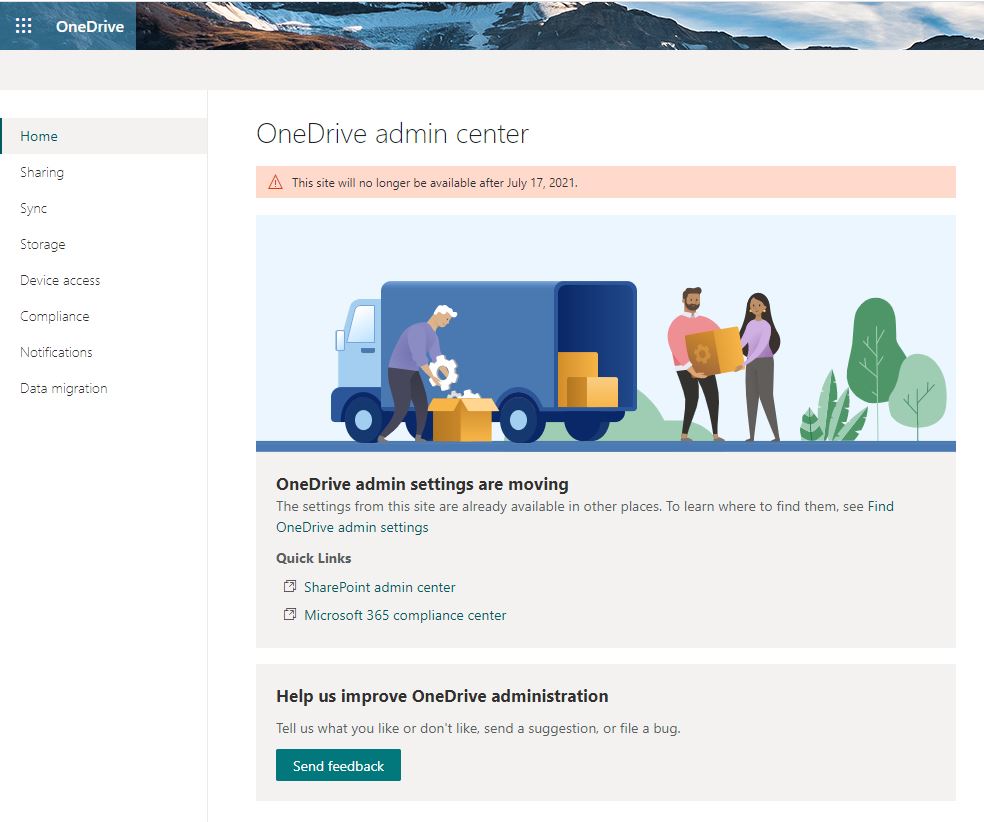 The SharePoint Admin Centre page already contains OneDrive Admin Center settings.
You might be asking, "Why is this migrated to SharePoint Admin Center?"
You should also be aware of the fact that OneDrive runs on top SharePoint Online. 

You heard it right. You can confirm by following the steps below:
Use "/_layouts/15/settings.aspx" page like in the following URL:

https://tenantname-my.sharepoint.com/personal/username_domain_com/_layouts/15/settings.aspx

Or, Returned to Classic OneDrive view

Then Clieck on Settings Gear icon,
Click on Site Settings,

Then you can see all its site settings likewise any other SharePoint site.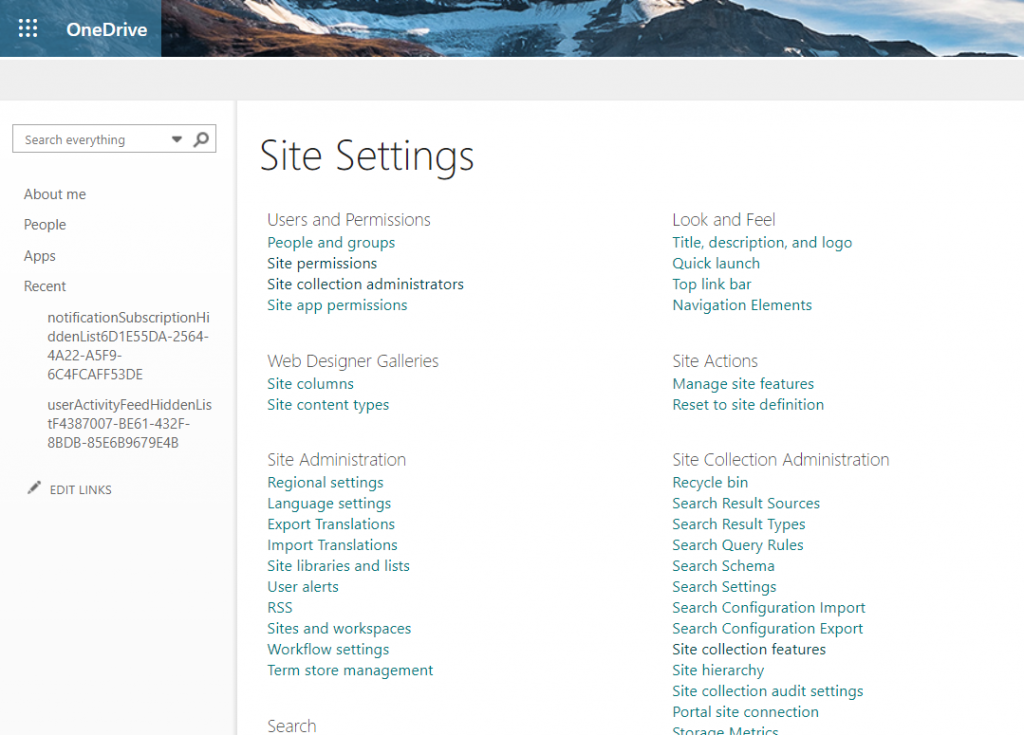 SharePoint Vs OneDrive Vs Teams Storage Use
We'll discuss how SharePoint Vs OneDrive Vs Teams are connected and what are storage licenses & settings are available.
Let's first talk about SharePoint storage.
Many site collections get store in a content database on SharePoint Server. Those content databases are getting store inside the SQL Server database in an on-premises environment. You can increase the local NAS/SAS storage as per your business requirement.
But in the case of SharePoint Online, Microsoft manages the backend server and the storage part.
How to Check SharePoint Storage
Microsoft offers the ability to modify the SharePoint site quota per license.
Like, 1 TB for tenant plus 10 GB storage per license purchased for SharePoint Online.

If you buy 200 license then total storage you'll get around 2 TB (10*200) + 1 TB (per teanant) = 3 TB total storage pool for all SharePoint Sites.
You can use the following steps to check and set storage limits for each SharePoint site separately:
Open SharePoint Admin Center
Click on Active Sites option from left side menu,
Select Site and click on Storage option,
Edit Storage limit size in GB and Save.

How to Check OneDrive Storage
OneDrive storage quota is not clubbed with the SharePoint Online storage pool. Each user gets 1 TB of storage for OneDrive.
You as an admin can change storage settings for existing and new users.
If you're thinking about how to check OneDrive storage, then please check the following steps to change storage settings:
Open SharePoint Admin Center,
Click on Setings option from left side menu,
Open OneDrive Storage limit,
Change Default storage limit in GB and Save

How Microsoft Teams interact with SharePoint and OneDrive
A SharePoint Team site is automatically created when you create a Microsoft Teams. Each channel of Microsoft Teams shares the same document library for the team site they have created.
But, When you create a private channel then a dedicated separate team site get created so that other channel member can't access private site.
Files shared in Teams channels are store in SharePoint Team Site. You can check the below screenshot to access the Teams site in Microsoft Teams.

File shared inside private chats outside of channels are saved in the sender's OneDrive and automatically receivers get permission to access.
You can check Microsoft Teams Chat Files Folder get created in the below OneDrive screenshot.

Summary
After reading these points, you will see that SharePoint and OneDrive share many similarities. But, SharePoint is more collaborative than OneDrive because it has more features such as sharing news, posts, and blogs. Also, learned how Teams use both storages in real-time chats.
This post will be updated regularly. Please let us know if you have any questions.
Please check this page for more learning resources…..