This FAQ post contains most frequently searched questions related to Microsoft 365 or Office 365 services. My motive is to create this post to provide you most answers on one page if you're looking for any match question.
Microsoft 365 is the same as Office 365 only the branding name has been changed on 21 April 2020, from to Microsoft 365 (M365). Microsoft changed the name to be more reflective of the range of features and benefits in the subscription, to meet the unique needs of individuals and businesses.
As people still searching more it's old name Office 365 instead of Microsoft 365, so I've also mentioned Office 365 name to its matching questions.
What is Microsoft 365 (Office 365)?
As I mentioned in the above block, Microsoft 365 is the new branding name for Office 365.
Microsoft 365 is SaaS (Software as a service) subscription-based service provided by Microsoft. It's a suite, which combination of existing Office 365 + Windows 10 + Enterprise Mobility & Security
Microsoft 365 provides many plans based on different customers requirements:
What Office 365 services include?
You can find the below product and services which available in the Office 365 suite:
Microsoft 365 Apps

Excel,
Word,
PowerPoint,
OneNote,
Access

Email and calendar

Exchange Online,
Outlook,
Bookings

Meetings and voice
Social and intranet
Files and content

OneDrive for Business,
Stream,
Sway,
Lists

Task management

Power Apps,
Power Automate (Flow),
Planner,
To Do

Advanced analytics
Device and app management

Windows Enterprise,
Admin Center,
Intune,
Microsoft Endpoint Configuration Manager

Identity and access management

Azure Active Directory Premium plan 1,
Azure Active Directory Premium plan 2,
Windows Hello, Credential Guard, and Direct Access

Threat protection

Microsoft Advanced Threat Analytics,
Windows Defender Antivirus and Device Guard,
Microsoft Defender Advanced Threat Protection,
Microsoft 365 Advanced Threat Protection,
Azure Advanced Threat Protection

Information protection

Microsoft 365 data loss prevention,
Windows Information Protection and BitLocker,
Azure Information Protection P1,
Azure Information Protection P2,
Cloud App Security

Security management

Microsoft Secure Score,
Microsoft Security and Compliance Center

Advanced compliance

Advanced eDiscovery,
Customer Lockbox,
Advanced Data Governance,
Service Encryption with Customer Key,
Privileged Access Management
These services are grouped & available based on multiple subscription plans.
How much does Office 365 cost you?
Office 365 cost vary from country to country and also price can get change. So request you to please select the location after a click on the below plans link to get the updated price.


Microsoft 365 Education please check this link for all included services and current price. These plans are available for schools.


Microsoft 365 Home please check this link for all included services and current price. You may be seeing that for office home & student 2019 has $149.99. You must be thinking about why it's very costly than all other plans. It's because other plans price mentioned monthly basis and its cost is one time only.

Can Office 365 services be used offline?
Office 365 apps can be work in offline mode, as normally you do earlier installed Office 2010, Office 2013. But in the offline working case, your working files will be saved on your system's local hard disk (HDD).
There is a chance of losing files due to OS corrupt, HDD damage, Virus infection etc. To avoid data loss, it's better for you after working connect your system on the Internet once possible and sync files to respective OneDrive for business or SharePoint site.
You also need to connect your system on the Internet within 30 days to keep your subscription active. This is prerequisite by Office 365 and it'll notify you when need to get online.
How much is Office 365 personal?
You can select below plan either a monthly or yearly basis payment. You may also check system requirements and FAQ details on the link Microsoft 365 Personal.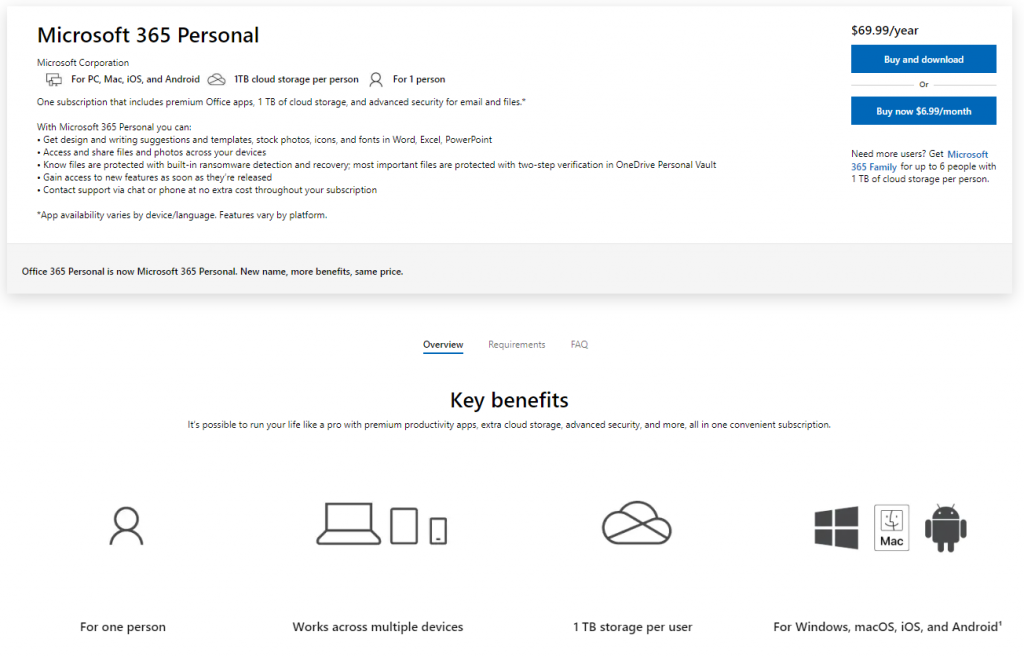 How Office 365 services works?
In normal language, we say Office 365 is cloud-based services (SaaS – software as a Service) and it's a suite of many office-related products & services. If we see parallelly with cloud version products many main products (Exchange, Active Directory, SharePoint, Skype for Business etc.) are available and in use as an on-premises server.
Where you have full control & responsible for on-premises installed servers from scratch. In Office 365 Microsoft is taking care of it's data center infrastructure (Servers, Network, Power, Cooling, Patching, Support, etc.). If something get wrong Microsoft will notify you and resolve the issue from their end so that you no need to worry.
Microsoft is also able to prevent its piracy of Windows 10 OS, SharePoint, Exchange & others very costly applications by providing subscription-based service.
In Office 365, Azure Active Directory (Azure AD) providing enterprise identity service provides single sign-on and multi-factor authentication to help protect your users from 99.9 percent of cybersecurity attacks. Azure AD provides a feature to sync on-premises identities (Users & groups) from Active Directory and also provide two-way password replication.
Almost all Office 365 services are browser based, so you can access from any device and from anywhere, only you require Internet connection. you only need to login on https://portal.office.com portal and after successful authentication, you'll land this page. From here you may access all availble servies.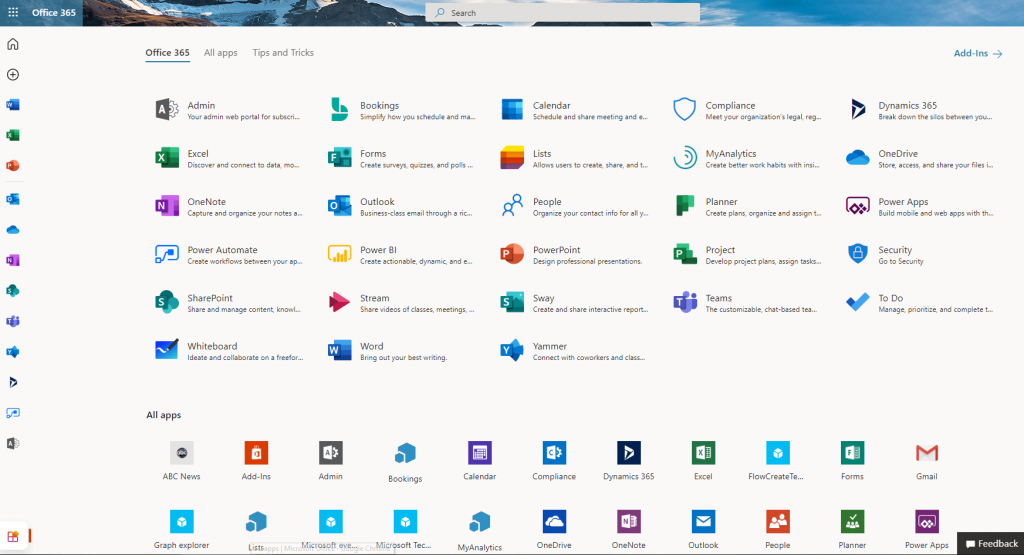 Will Office 365 work on windows 7?
I want to inform you that Microsoft Support for Windows 7 ended on January 14, 2020. Microsoft 365 Apps is no longer supported on Windows 7 and your system may be vulnerable to security risks. So if you have not upgraded yet to Windows 10, so please upgrade.
But you can access many browser-based services through your favourite browser for which no installation require on local system.
How much is Office 365 for students?
If you are looking answer for school then as per below details Students and educators at eligible institutions can sign up for Office 365 Education for free, including Word, Excel, PowerPoint, OneNote, and now Microsoft Teams, plus additional classroom tools in Office 365 A1 plan. If require any additional services then can choose accordingly A3 or A5 plan.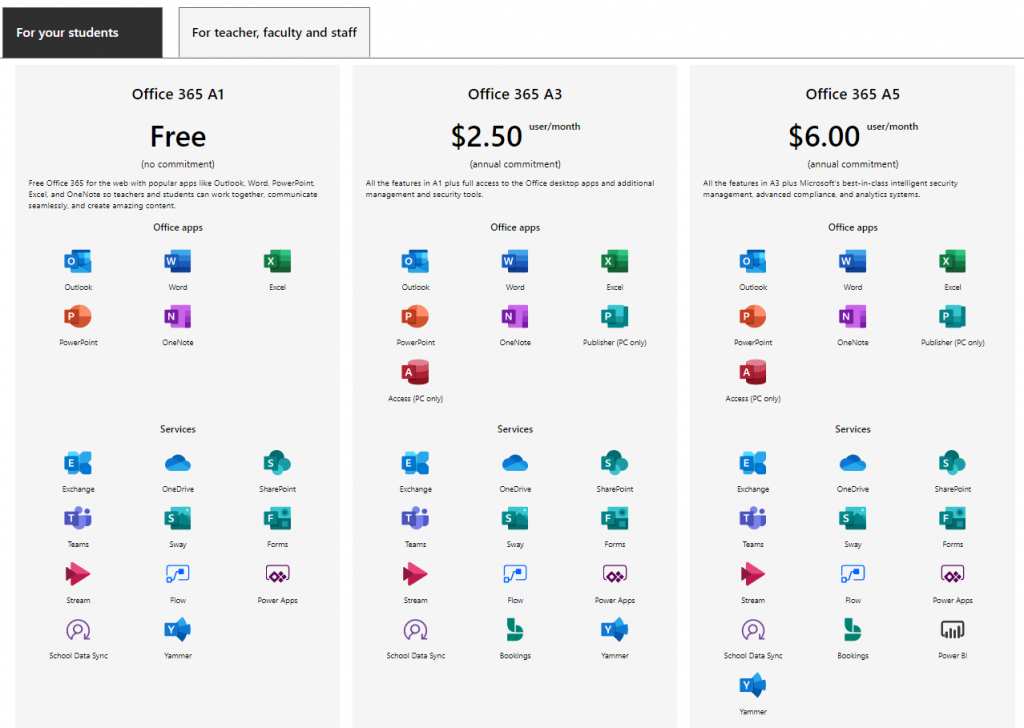 How much do Office 365 Services cost for Mac?
You can purchase subscriptions for both Mac and Windows. Office Home & Business 2019 or Office Home & Student 2019 are also available for Mac as a one-time purchase.

How to use Microsoft 365?
Now you would get to knew that what is Microsoft 365 is and what services it provides. After successful login on https://portal.office.com portal in your browser, you can select the left-top menu for the desired available applications. These apps are browser-based, so no installation required.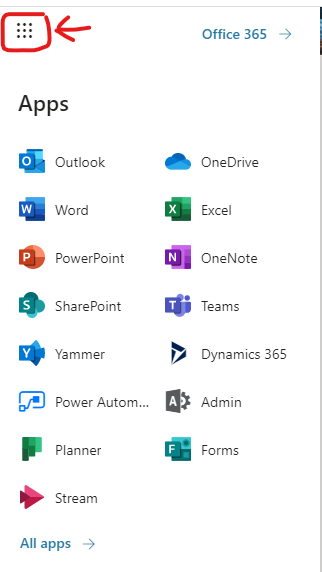 Additionally, for better productivity and working offline mode, you may also install its Office package, Teams, OneDrive Sync, Power Automate recording tool on your local system.
How to get Microsoft 365 for free?
Microsoft is providing Office 365 A1 plan free for school's teacher & students.

If you're IT professional or software developer, so you can apply for free Microsoft 365 developer subscription. through this, you'll get Microsoft 365 E5 developer subscription with 25 full licenses (without Windows & Teams calling feature). which is enough for your testing and upgrading your skills.
Just remember that Microsoft 365 developer subscription is free to use for development purposes (coding solutions) only, not for any commercial use.

This developer subscription is valid for 90 days and it'll be getting extended for the next 90 days and so on if you keep using it.

Note!
How to Microsoft Office 365 login?
Open the https://portal.office.com portal and login with your provided credentials to access its available services.
How Office 365 email works?
Office 365 has Exchange online service which handles the mails traffic and manages user mailbox. If you're an administrator then you need to know what is the process after buying a new tenant.
You need to setup your custom domain like https://example.com and add MX (mail exchanger) records in your domain DNS records. Now it has also a wizard where it gives the option with many compatible domains to setup all required DNS records through the wizard without adding manually.
After that, you need to set your custom domain default and can select email alias for users so that they can receive and send emails with custom domains in Outlook application.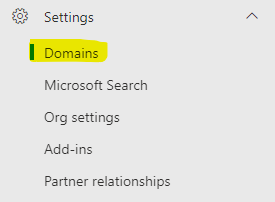 Are Office 365 emails encrypted?
Yes, emails are getting encrypted in two ways: while transmission and data at rest (when mails are at storage). In the service, encryption is used in Microsoft 365 by default; you don't require to configure.
It uses TLS (Transport Layer Security) for encrypting the emails while in transmission phase. Email data at rest is encrypted using BitLocker Drive Encryption to protect against unauthorized access.
What is use of Office 365 with GoDaddy?
You must be aware that GoDaddy provide domain and hosting services.
GoDaddy also sells Office 365 subscription plans additionally with their custom domain. So for an email solution, you can select below bundle plan from GoDaddy after comparing with other domain providers.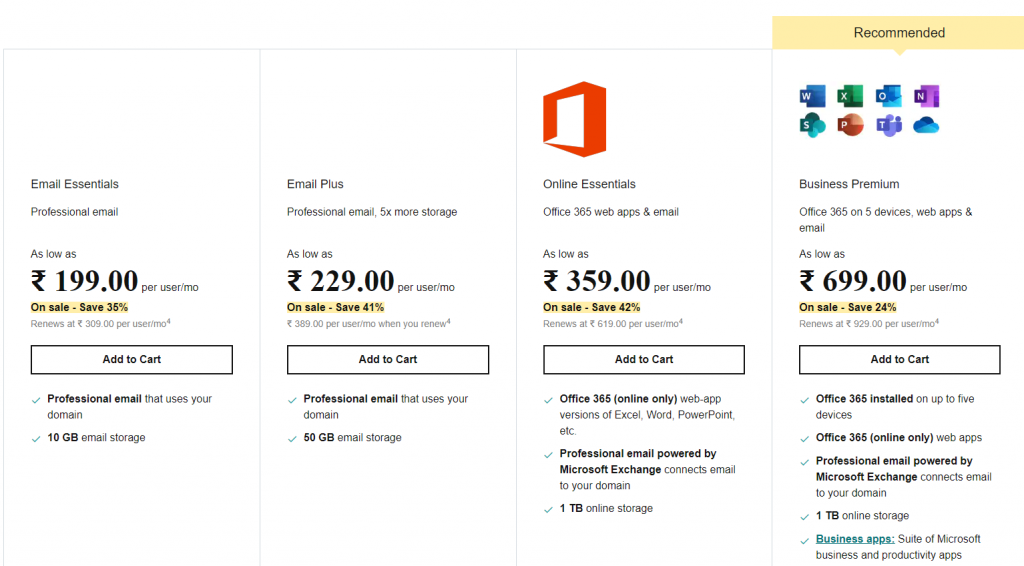 How to configure Office 365 SMTP settings?
As you know knew that Office 365 is also providing email solutions which can be configure in many applications to send mails through its SMTP.
You would require below SMTP details to configure on any apps or website:

What is Office 365 admin portal?
Office 365 admin portal is web-based where administrator manages the users, applications and configure the settings.
You can called it Microsoft 365 admin center as name has changed.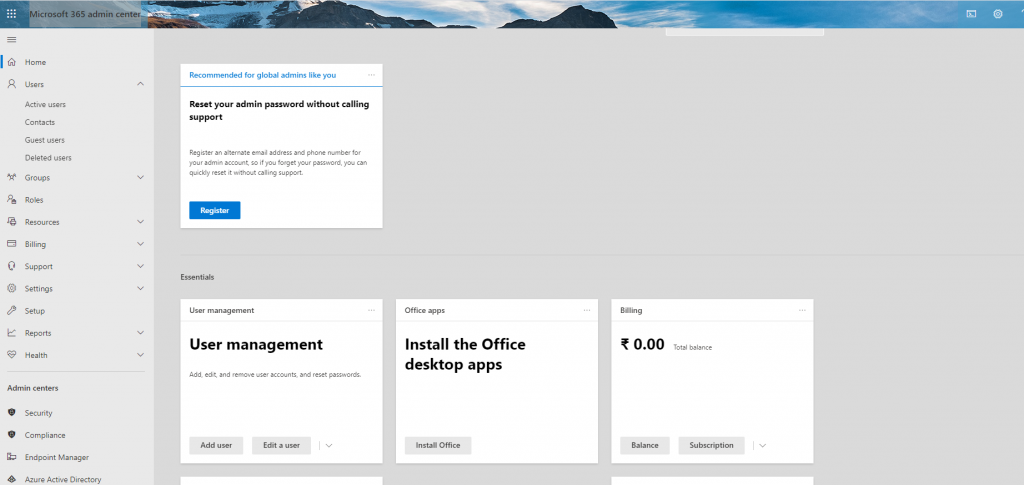 In admin center console you'll find below settings and features to manage:
Users,
Groups,
Roles,
Resources,
Billing,
Support,
Settings,
Setup,
Reports,
Health,
Admin centers (Open separate admin centers for Exchange, Skype for Business, SharePoint, Yammer, and Azure AD. Each admin center includes all available settings for that service.)
What is Teams Office 365?
Microsoft Teams cloud-based upgraded version of Skype for Business application. It's a communication and collaboration tool that combines chat, video call, screen & file sharing features and many service integration within Teams application.
How to get Office 365 training?
You may try below resources for the training:
Office 365 certification?
Recently many changes have been made by Microsoft in certification. Many exams have been retired on August 31, 2020 or will be retiring on January 31, 2021.
So you may check this page for updated Office 365 certification exams list.
When Office 365 change password?
You need to change the password when it's about to expire or in case of forgotten need to reset. Due to security reasons, the organization also set the password expiration policy to force users to keep changing their password.
Go to Settings > Password.
Type your old password, and then type a new password and confirm it.
Click Submit.
Use of Flow for Office 365?
Microsoft Flow name also has been re-branded as Power Automate. It allows you to automate business processes by building workflows based on certain triggers and actions. It'll be also the replacement of SharePoint designer tool.
What is Office 365 tenant?
An easy below an example of understanding what is a tenant term in Office 365 environment.
Think of a multi-story building which has many flats. Same way here Microsoft infrastructure is like building and customer who are paying for the services and share the infrastructure with other customers like a flat. So after register, you'll get a tenant name & ID for unique identification.
What is Powerapps for Office 365
Power Apps is a suite of apps, services, connectors and data platform that provides a platform to create low-code & no-code environment to build custom apps for your business needs. Non-IT users also can create a custom application without learning code.
What is use of Veeam for Office 365?
Veeam provides a backup solution for Office 365 because Microsoft is not responsible for everything. It allows you to back up and restore data of your Microsoft Office 365, on-premises Microsoft Exchange and on-premises Microsoft SharePoint organizations, including Microsoft OneDrive for Business.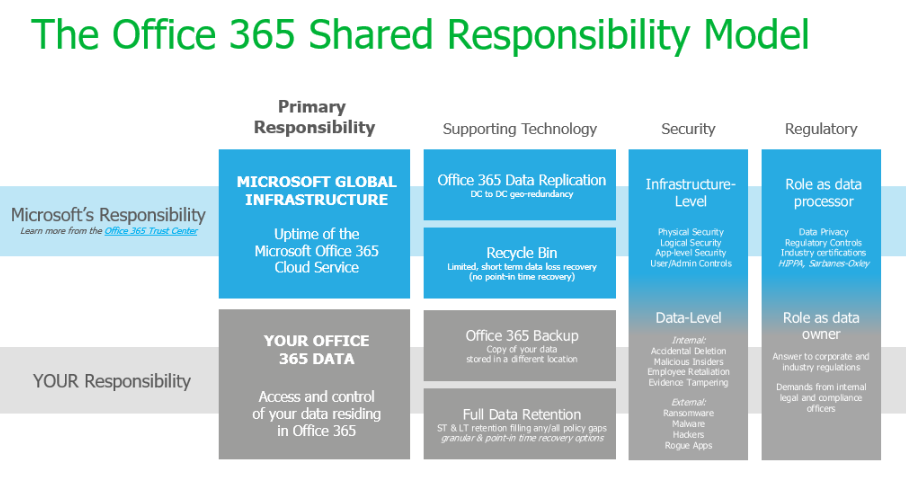 What is SSO with Office 365?
SSO stands for single sign-on. SSO let the user use the same single credentials to login in multiple Office 365 applications as well as on-premises applications. It's also called modern authentication.