I've shared much free training and certification for Microsoft cloud technologies in my other posts.
Likewise, in this post, I'll explain how you can get a Microsoft Certification free exam PL-900 voucher for Power Platform Fundamentals.
Microsoft Certified: Power Platform Fundamentals exam measured the below skills:
Describe the business value of Power Platform
Identify the core components of Power Platform
Demonstrate the capabilities of Power BI
Describe the capabilities of Power Apps
Demonstrate the capabilities of Power Automate
Demonstrate the business value of Power Virtual Agents

Download certification skills outline
I hope you must have an overview of Microsoft Power Platform technologies. If you don't have, no problem I'll explain in the below topics.
Power Platform
Power Platform is a combination of Power BI, PowerApps and Power Automate powerful applications.
It connects these tools & also Office 365, Dynamics 365, Azure and many other third-party apps altogether for creating end-to-end business applications.
These handles the application data by using the Common Data Service (CDS) which stored within a set of standard entities. However you may also create a custom entities as per business requirements.

Power BI
Power BI is a self-service business analytics tool. It's offers two-mode, Desktop version and web-based Power BI interface.
You can understand the power and importance of a require data in the reports because based on that reports a decision-maker can take big decision to lead the organization.
You don't need an additional developer and professional resources for preparing dynamic complex business reports. Easily you can learn the Power BI in some days and can prove yourself productive on this tool.
You can connect Power BI with the data that is stored in CDS or large number of data source like SQL and other third party tools.
Power Automate
Power Automate formerly known as Microsoft Flow. If you notice Microsoft keep changing brands name for good marketing.
It allows you to automate business processes by building workflows based on certain triggers and actions. It'll be also the replacement of SharePoint designer tool.
You can quickly create or automate the workflows with no code/low code approach. But you've to learn JSON (JavaScript Object Notation) because for the data filtering you've to customize the data fields through JSON.
PowerApps
Power Apps is a suite of apps, services, connectors and data platform that provides a platform to create low-code & no-code environment to build custom apps for your business needs.
Non-IT users also can create a custom application without having any previous coding experience.
Free Microsoft Certification
If you read my other posts, you'll get to know that Microsoft or their partner first schedule a webinar. That way they provide the participants with free training and then provide the free exam voucher.
Likewise, you will get this Power Platform Fundamentals free voucher.
Just open the https://www.microsoft.com/en-us/trainingdays URL.
You'll see that free training webinar is available for Azure, Dynamics 365 & Microsoft 365.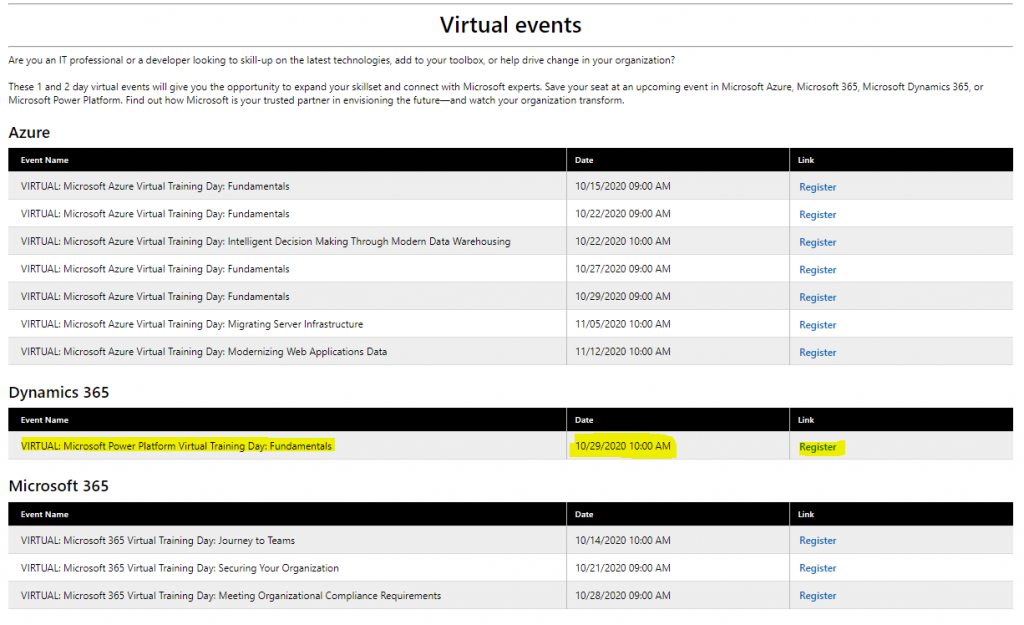 This list is keep getting updated from time to time at Microsoft end. So maybe you'll see different slot once you access later. So keep checking this page for updated future dates and times for training.
On that page, you can register for Azure Fundamentals and Microsoft Power Platform: Fundamentals webinars as per the availability.
After attending the 1-2 days respective virtual training you will receive a free exam voucher. which normally valid for 3 months
At the time of writing (10th Oct 2020) slots are available for new registration.

You may be received a message "The event registration is full.". so don't worry keep checking that URL and you'll find a new date soon.

Note! Keep checking Virtual Training Day Page.
Conclusion
So I believe you have understood the steps well. You can get a free Microsoft Certification voucher for Azure fundamental (AZ-900) and Power Platform Fundamentals (PL-900).