You can get a Azure free exam voucher for AI-900 and DP-900 by attending a free webinar by Microsoft events.
How Azure AI and Data skills are changing the world
Hello, you must be aware that how artificial intelligence (AI) and data science (DS) are changing our life. if you're not aware then I'll provide some examples which help you in understanding how we're interacting daily with these technologies:
Time needed: 10 minutes
Examples of AI and DS:
Digital Assistants

You know that Google now, Amazon's Alexa, Microsoft's Cortana, Apple's Siri are digital assistants which ask or reply (talk) in the voice form with us. Which also perform some tasks like calling, sending the message, set alarm, check schedule and lot of tasks.
This is an example of artificial intelligence (AI).

Chatbots

You must have interacted with a chatbot while contacting to many Org support team via chat, so first, you'll get a reply from an automated system which provide matching reply with your entered query. That is a chatbot which saves a lot of time, cost and resources for the organizations. it's also easy to connect with customers.


Digital Advertisements

Data science are collecting the multiple data and after analyzing showing the relevant data on the base of organizations can decide where need to focus.
E.g. Google AdSense showing us an advertisement for which have browse recently which is relevant to users. This would be very effecting and can convert the views in revenue for the organizations.
Like these there are many more examples like Google navigation, Google trending, product recommendations, flights delay predict, weather forecasting etc.
Why it's important to learn
You must be thinking, why it's important to you and how can help in your career.
While working in IT, it's essential for us to keep upgrading our skills according to new technologies. AI and DS are also new technologies for which organizations are using its services. Also, they are providing opportunity to their engineers to upgrade their skills and looking for new engineers who have experience of working on it. So now if you see in the IT market, new technologies are replacing the legacy system and software in every area.
If we didn't upgrade our skills, then it would be challenging to survive in the IT world. So if you're interested in Azure artificial intelligence (AI) and data science (DS) then AI-900 & DP-900 are fundamental levels certification from where you may start your career in this area.
Azure Free Exam Voucher Certifications
Microsoft is providing azure free exam voucher, training and certification for following fundamental exams:
Azure free Exam Voucher Registration Steps
Please click on the Registration link and you'll get the below page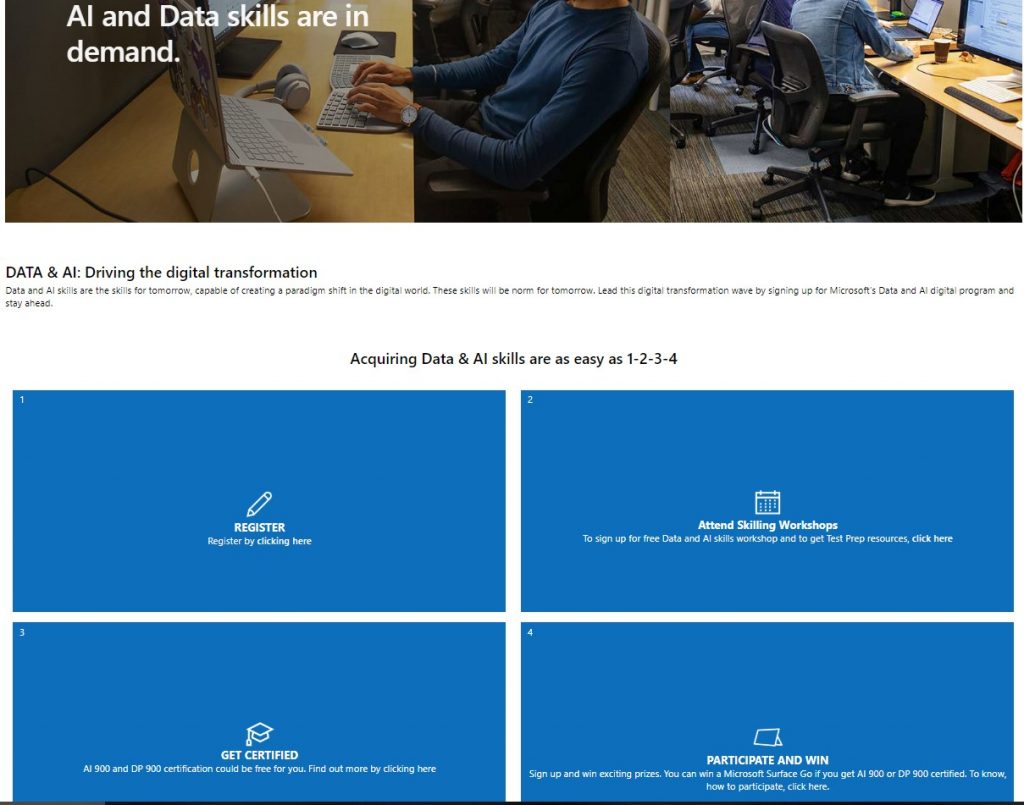 First you need to click on the REGISTER link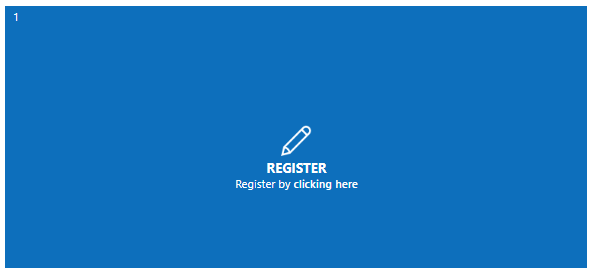 Fill the require details in the form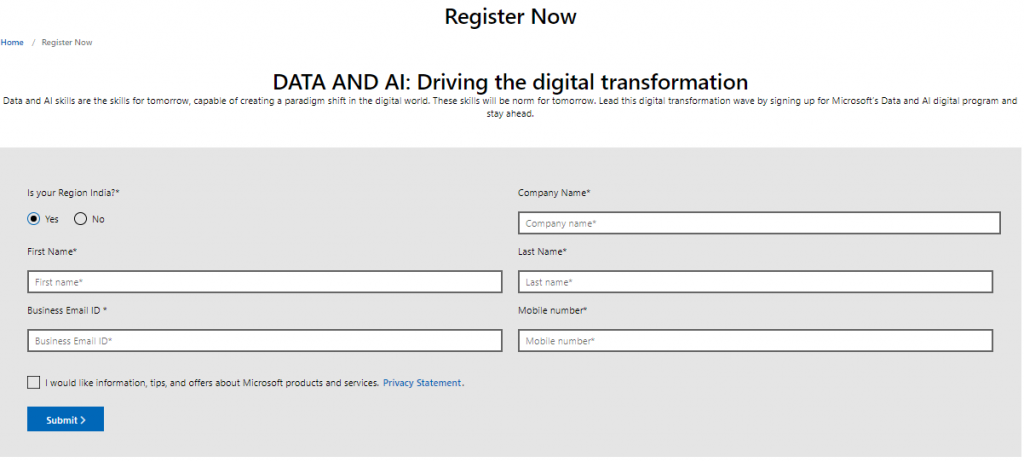 Remember to enter business Email ID here in all forms, as you'll not get benefit with personal email ID, e.g. Gmail, Yahoo, Outlook etc..
Click on any workshops date as per your availability (Blue mark date for AI-900 and Yellow mark date for DP-900) and fill the form again for the particular workshop.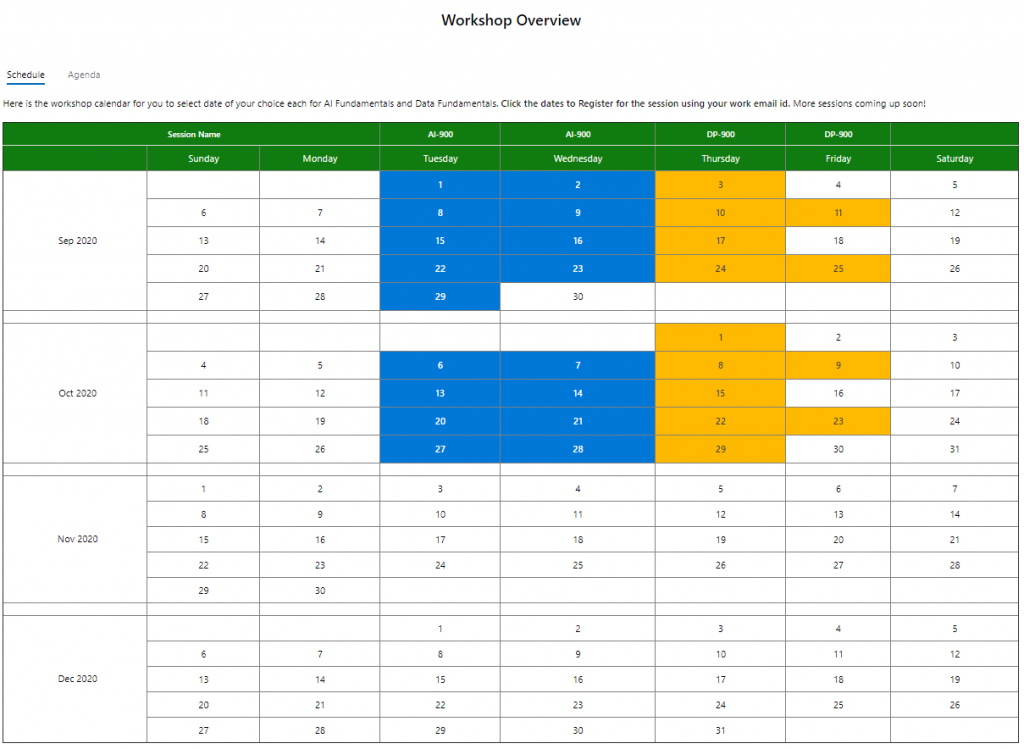 All respective training are the same which getting provided for multiple days. So if you miss again can join on another date.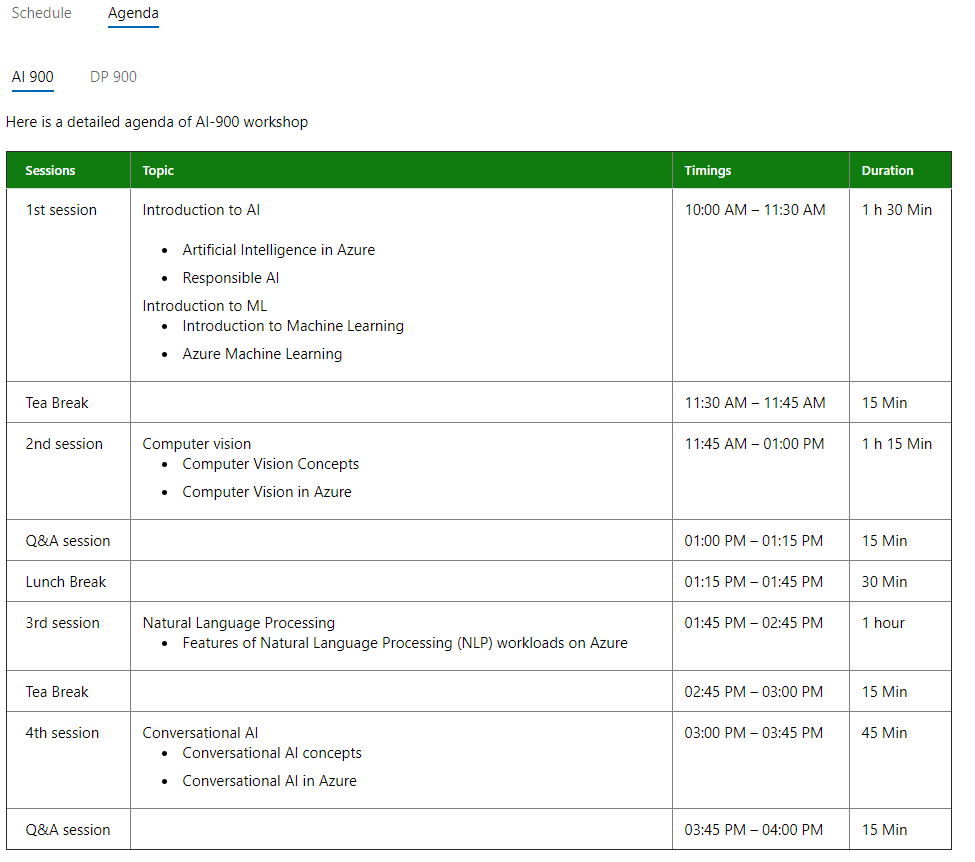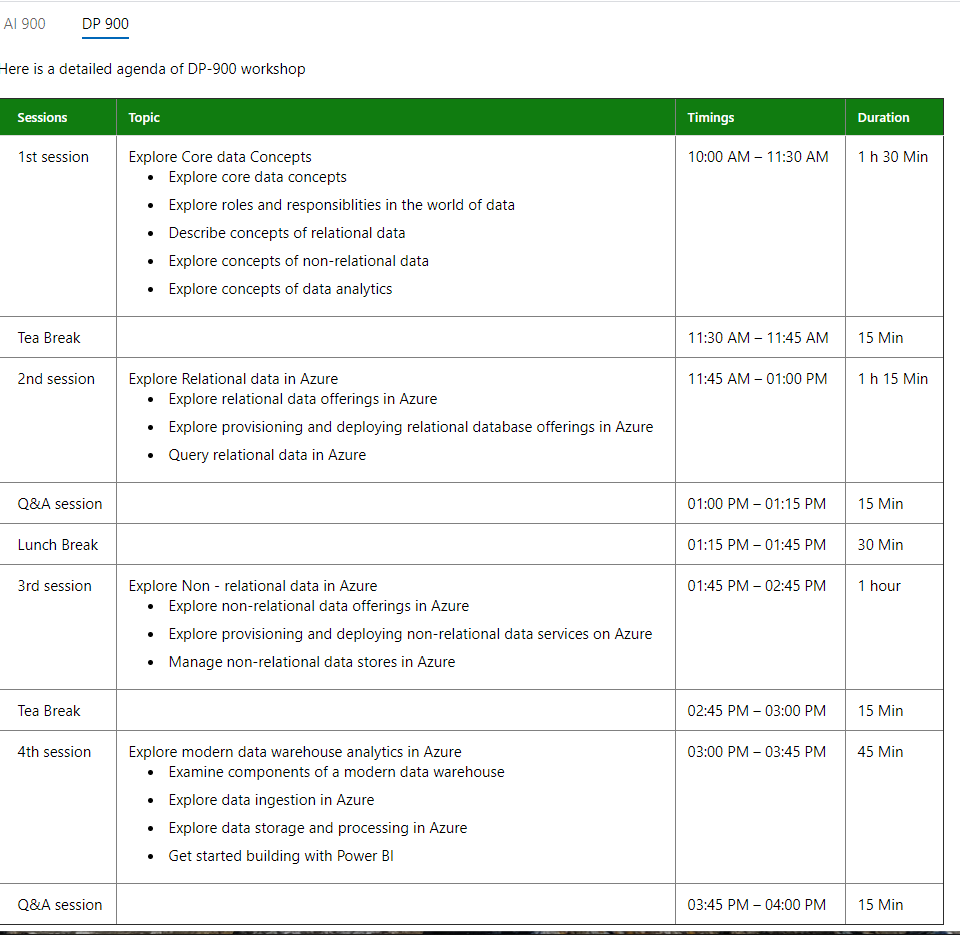 How to get AI-900/DP-900 Test Prep Access
On this page below section you'll find the another registration link to get free test prep access.
If you've complete the workshop, please update your LinkedIn profile with Azure skills, Azure AI, Azure DS skills and fill this form.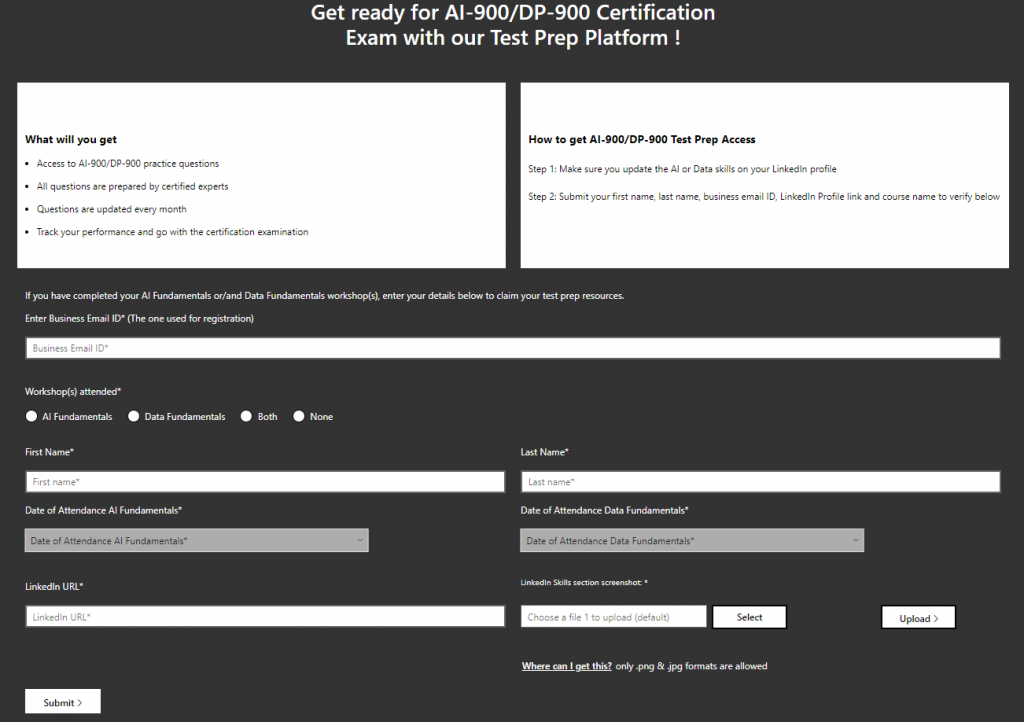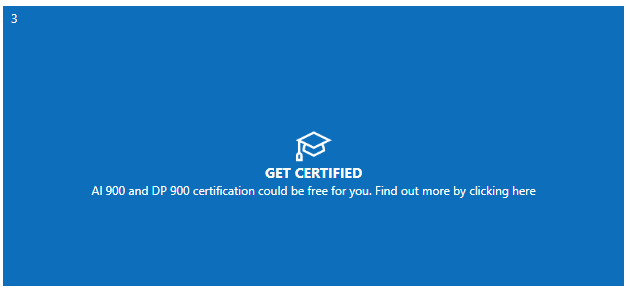 You'll be redirected to this section, please click on Terms & Conditions to get all details. You may click on the exam code and while schedule exam then you may check your eligibility for Azure free exam voucher AI-900 & DP-900.

Participate and Win prizes "Microsoft Surface Go"
Yes, you read right, You can win prizes including vouchers and Microsoft Surface Go! you may check this page for more details.
You can win Exam Prep Resource,
You can also win Microsoft Surface Go,
You can also win assured gift voucher.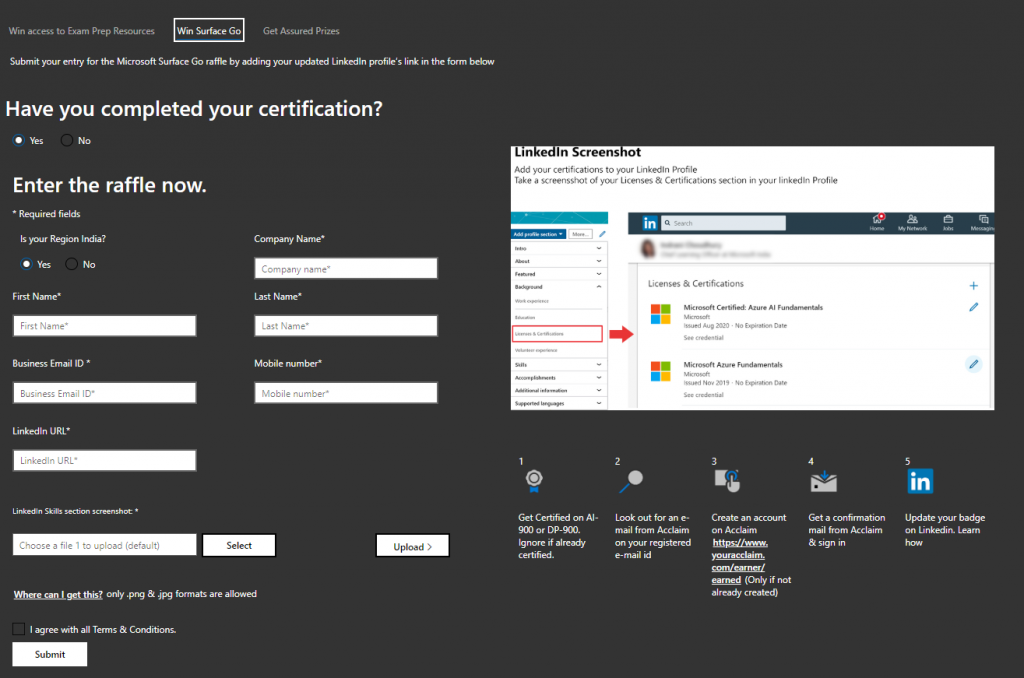 YouTube Tutorial
You may also watch more resources on my YouTube Channel. So please watch and subscribe to be updated.
Conclusion
So I've shown you why you should upgrade your skills on artificial intelligence (AI) and data science (DS). Also, how can take benefit of free training and certifications which getting provided by Microsoft completely free. You can also participate to win many prizes like Microsoft Surface Go". If you're interested then definitely you should attend this workshop.
You may also check for "How to get free Azure Fundamental AZ-900 exam voucher" post.
You may get confident by practice our Udemy AI-900: Microsoft Azure AI Fundamentals (95 Practice Test)