As shared the resources to get free training and free certification in previous posts on different Microsoft Technologies.
Again I've come with the latest news about 48 hours of non-stop training. Also, will guide how you can get Microsoft certification free exam voucher which for 42 eligible certification exams.
Microsoft Ignite 2020
I hope you all know what is Microsoft Ignite.
If you don't know then I would like to inform you that Ignite event is an annual conference which arranged by Microsoft to meet IT professionals, developers & MVPs from worldwide.
Where you'll get a chance to meet MVPs (Most Valuable Professional) technology expert who shares their knowledge in the community.
Normally it gets arrange at one place to meet in person and the cost of the full pass is more than $2K. But due to COVID bad situation this time Microsoft has decided to go for the virtual event and it's totally free of cost.
It's a really great opportunity for us to learn and get to know about what's new coming in Microsoft technologies.
Registration
Remember to register before 22 September 2020. You may check this Microsoft Ignite link to go on the registration page and click on the Register-now button.
After that, you'll get a login page where you may use any below login method to signup. After that just fill all required details in the registration form.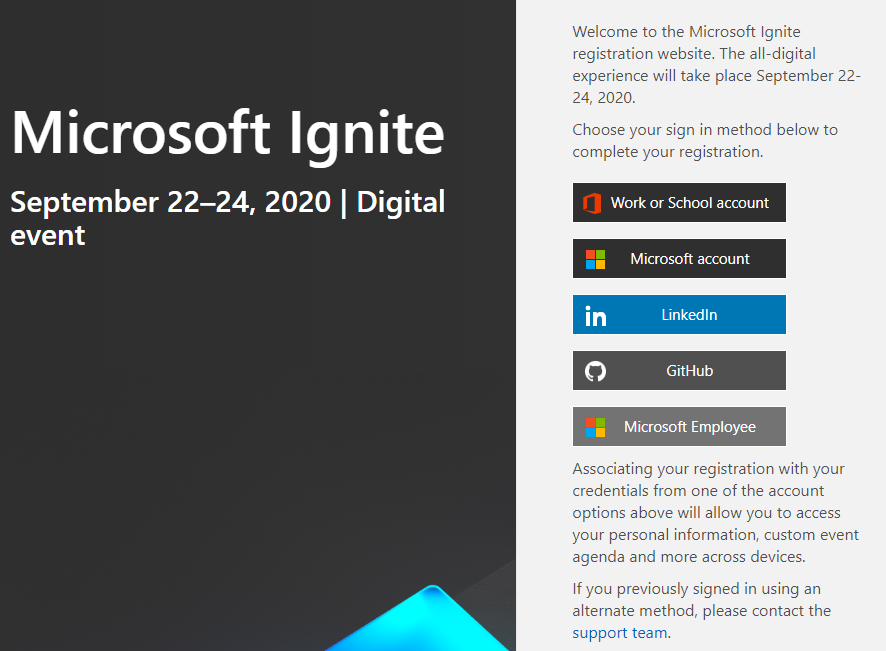 Agenda
You may check this below agenda of 48 hrs non-stop events. Timing is showing in the IST time zone so it'll get change according to your browser setting.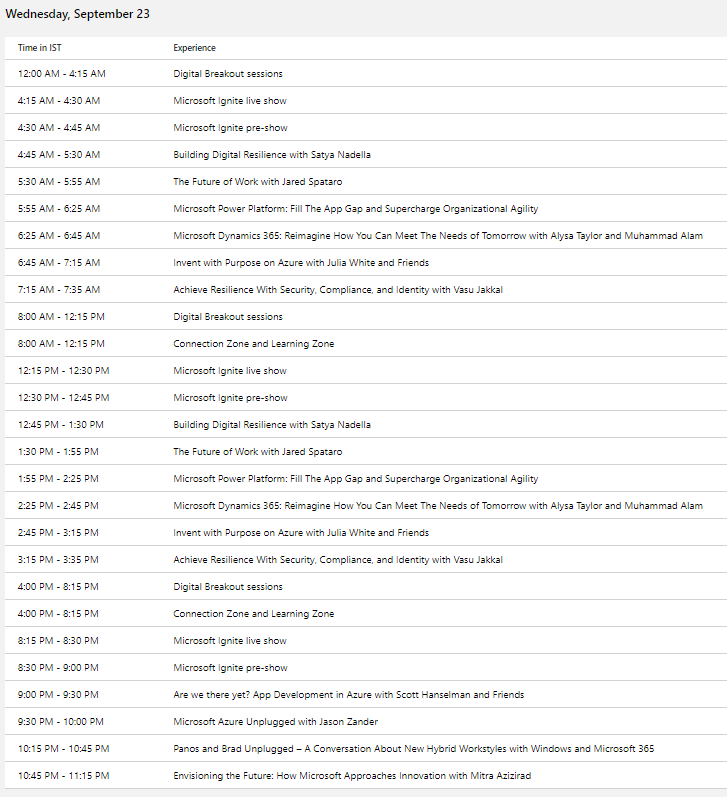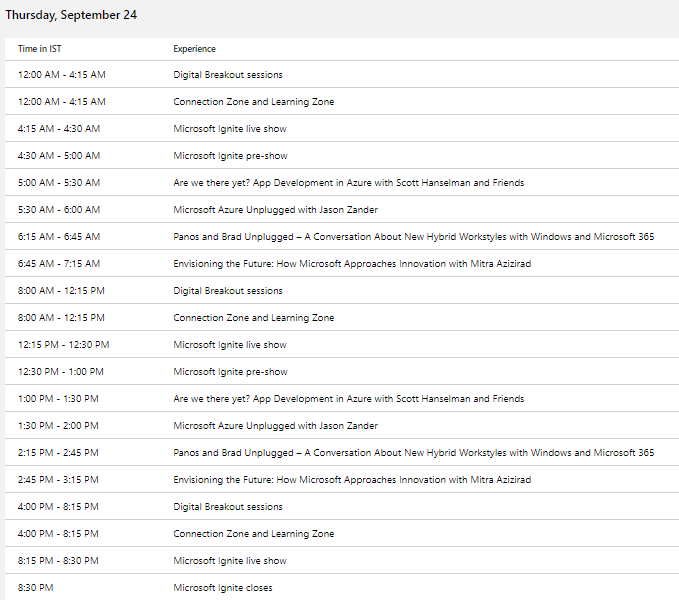 If you're thinking about how you could attend all continuous sessions, then no worry you just join your interested topics sessions.
Later you could also get a chance to view it's recorded session when Microsoft provides.
Microsoft Ignite Cloud Skills Challenge
Look like Microsoft again has planned for some skill challenges for Ignite like previous Microsoft Build Skills Challenge.
In which they divide participants into 4-5 groups and provide us with Microsoft Docs training collection courses.
Currently, Microsoft hasn't declared yet which six courses will be available for challenge.
As per FAQ on the Microsoft Ignite Cloud Skills Challenge page, this will be available from September 22, 2020, at 12:00 AM PDT. So please remember to signup here also.
How to Get Microsoft Certification Exam Free Voucher
You may check on the page Microsoft Ignite Cloud Skills Challenge where Microsoft has mentioned that if you completed anyone challenge courses then you'll be eligible for Microsoft Certification Exam free voucher.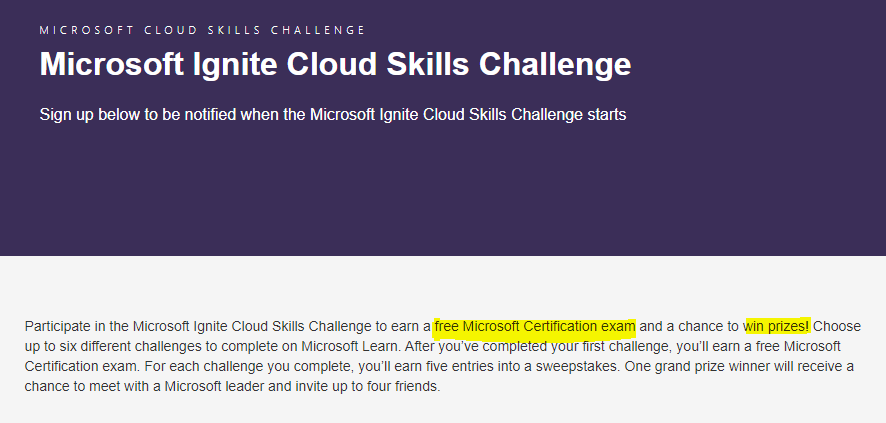 Please visit on September 22, 2020 at 12:00AM PDT to signup for available challenges.
Eligible Free Microsoft Certification Exam
Microsoft has identified below 42 certification exams which will be eligible for free certification after complete any skill challenge.
Certain exams are free in the above three technologies but I think that is enough to start your career in that area.
The free certification exam is available for redemption starting October 12, 2020 and is valid until March 31, 2021.

This exam offer is available to eligible individuals who attend Microsoft Ignite and complete one collection in the Microsoft Ignite Cloud Skills Challenge.

Note!
Win Prizes
When you'll register and get completing challenges then can earn points in sweepstakes where winners will be randomly selected.
One grand prize winner will receive a chance to meet with a Microsoft leader and invite up to four friends.
One hundred first prize winners will receive an opportunity to select 1 of 4 virtual experiences with a select group of Microsoft personalities from Microsoft Ignite.
After the challenge has closed October 6, 2020 at 11:59PM PDT, the random sweepstakes drawing will be completed and winners will be contact directly by Microsoft with details about claiming their prize.
The list of sweepstakes winner will appear on Ignite Cloud Skills Challenge page on October 14, 2020 at 12:00AM PDT.
You may watch this video-based article on my YouTube channel. If you like and want to watch more technical resources, so please watch and subscribe on YouTube.
Conclusion
By attending Microsoft Ignite & completing skill challenge, you can get 48 Hrs live training and will be eligible for Microsoft Certification Exam free voucher from any above 42 exams list.
You can also win a prize by getting more score in the challenge and keep checking my other resources for free certification.
Please write in the comment if you've any doubt or want to share any this type of training resources to help others. 🙂